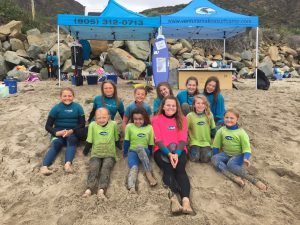 Surf Camps at Mondos, Ventura Harbor & Silver Strand Beach
$375/week
Ages 8-17
9 a.m. – 3 p.m.
*WETSUITS AND SURFBOARDS PROVIDED*
Our surf camps teach a foundation of ocean knowledge and safety through surfing, beach games, and making new friends. Start off slow at the beginning of the week to build confidence and technique, and progress throughout the week!
Types of Surf Camps We Offer
*Surf Camps running at Mondos Beach may be subject to location change due to higher tides and overly crowded line-up/beach at Mondos. We of course would update all participants and parents if a location change were to occur, but please keep in mind that we do want to provide the best and safest experience possible for your participant at all times* 
2021 SURF PROGRAM SESSIONS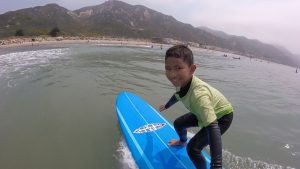 View Upcoming 2021 Season Sessions:
SPRING SURF CLASSES (Online Sign-Ups Coming Soon)
SPRING BREAK SURF CAMP (Online Sign-Ups Coming Soon)
SUMMER SURF CAMP Sessions (Online Sign-Ups Coming Soon)
Early-Bird Registration coming soon for all 3 locations (Mondos/Silver Strand/Ventura Harbor)
DAILY SCHEDULE
To make sure we are staffed accordingly to our safety ratio of 1:4-5, we do not allow drop-ins. Online registration closes by 24 hours before the start of the session. We will not allow any sign ups after this.
A Typical Day at Surf Camp: (schedule is approximate)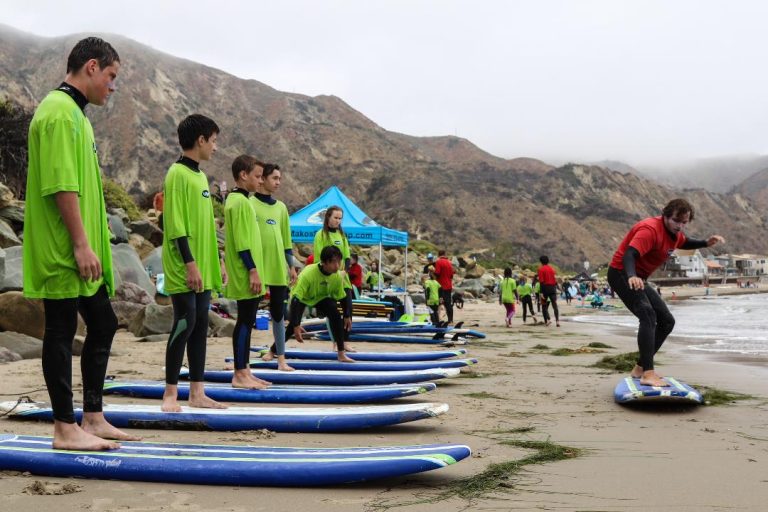 9:00 a.m. check-in9:05 sunscreen application and wetsuits9:15 morning stretch9:20 beach and ocean safety talk/sunscreen check 9:30 beach lesson9:45 groups/surfing 11:00 snack break/sunscreen application 12:00 lunch12:30 sunscreen application/beach games 12:45 groups/surfing 2:45 out of water, camp chant, change & clean up3:00 pick up
Surf Camp FAQ
What is your tax id#?
TAX ID# 81-1858923
Are surfboards and wetsuits provided?
Yes.
How long is the lesson?
Approximately 1.5 hours which includes wetsuit fitting, beach/ ocean safety talk, beach lessons, and water time.
Are swimming skills required?
Yes. It is recommended that your participant has taken swim lessons and comfortable in the water.
Are the instructors certified?
All of our instructors are CPR certified.
What if surf conditions are not safe?
Our priority is the safety of our participants. If the conditions are not safe at surf camp, we supplement with beach activities. If you are scheduled for a surf lesson, we will reschedule or cancel and refund.
How early can we drop off our participants?
No earlier than 8:45 a.m. We are still setting up and cannot supervise the participants.
What are surf camp hours?
9am – 3pm for regular surf camps (pick-up 2:30PM-3PM)
9am – 12 noon for Mini Makos
What if I'm late to drop off?
In an effort to keep the camp running efficiently, we do not allow arrivals after 9:30am unless you have made previous arrangements with Christian Brock or camp director.
How early can I pick up?
If the participant has somewhere they need to be, please tell the instructors at check-in when you will be picking your participant up. Otherwise we ask that you do not pick up before 2:45 pm, as we like them to participate in the camp chant & clean up.
What if I'm late to pick up?
We allow a grace period of 10 minutes. After that we charge $1.00 every 1 minute.
Are there makeup days if I miss a day?
If your participant is sick please call or email us before the start of camp. We will schedule a makeup day. There are no makeup days for no shows.
Can I stay and watch?
If you choose to stay, please stay off to the side of camp where the child cannot easily see you. We want the participants to fully participate in the camp and they perform better and adhere to camp rules if they don't know that you are around. The participant needs to adhere to camp rules & stay in the camp boundaries. If the participant sees you and wanders off to be near you, it is hard to know who is watching them.
What if we need to cancel?
There are NO refunds on cancellations. You may reschedule no less than one week prior to original scheduled date(s). No makeup sessions for missed days
Can we do drop-ins?
We do not.
What do we bring to camp?
COVID UPDATE: Participant needs to bring their own Hand Sanitizer and Sanitizing wipes, Sunscreen, towel, water, snacks, lunch, other needed forms of sun protection like hats and sunglasses, and a warm change of clothes.