---


Ventura Makos Surf Camp
&
Silver Strand Surf Camp
$475/week
Ages 8-17
9AM – 3PM
*WETSUITS AND SURFBOARDS PROVIDED*
Here at Ventura Makos our mission is to provide a safe and positive atmosphere for our participants to thrive in. Surfing is something that connects us mentally, physically and emotionally in a way that is incomparable to anything else. We cannot thank you all enough for allowing us to share the stoke of surfing and to be able to educate you all about ocean safety & knowledge
Types of Surf Camps We Offer
Fall & Spring Break Surf Camp @ Mondos Beach (Ages 8-15)
Private Group Sessions @ Mondos Beach (All Ages)
Mini Makos @ Harbor Cove (Ages 4-7)
Ventura Makos Surf Camp @ South Jetty, Ventura Harbor (Ages 8-15)
Silver Strand Surf Camp @ North Jetty, Silver Strand Beach (Ages 8-15)
Teen Surf Camp @ Silver Strand Beach (Ages 13-17)
Intermediate-Advanced Surf Programs (COMING SOON)
*An inherent risk of exposure to COVID-19 exists in any public place where people are present. COVID-19 is an extremely contagious disease that can lead to severe illness and death. By attending Ventura Makos Surf Camp, Inc. surf camps, including Silver Strand Surf School, you voluntarily assume all risks related to exposure to COVID-19*
2023  SIGN-UP  LINKS (LIVE NOW)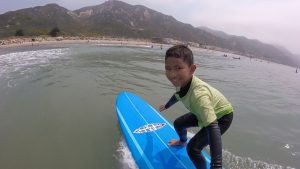 Upcoming 2023 Sessions:
FALL BREAK SURF CAMP
FALL AFTER SCHOOL SURF CLASSES
VENTURA MAKOS SURF CAMP
SILVER STRAND SURF CAMP
TEEN SURF CAMP
MINI MAKOS
*To make sure we are staffed accordingly to our safety ratio (1 instructor: 5 participants, Mini Makos 1 instructor: 3 participants), we do not allow drop-ins. Online registration closes 24 hours before the start of the session. We will not allow any sign ups after that. Last minute cancelations will not be refunded, cancelation must be made 1 week prior for full refund*

     DAILY SCHEDULE
                  A Typical Day at Surf Camp: (schedule is approximate)
        9:00AM    
             Check-In
         9:15AM    
             Break Into Groups/ Sunscreen Application
         9:30AM    
            Warm-Up/Safety-Talk/ Beach Lesson
        9:30AM – 10:45AM    
                Morning Surf Session
         10:45AM – 11AM    
              Re-Apply Sunscreen & Snack
          11AM – 12PM    
                Mid-Morning Session
         12PM-12:45PM    
             Lunch/Beach Activity/Re-Apply Sunscreen
         12:45PM-2:30PM    
               Afternoon Surf Session
          2:30PM    
                 Last Wave Call & End Of Day Chant
           2:30PM – 3PM    
              Check-Out & Pick-Up

What is your tax id#?
TAX ID# 81-1858923
Are surfboards and wetsuits provided?
Yes.
How long is the lesson?
Approximately 1.5 hours which includes wetsuit fitting, beach/ ocean safety talk, beach lessons, and water time.
Are swimming skills required?
Yes. It is recommended that your participant has taken swim lessons and comfortable in the water.
Are the instructors certified?
All of our instructors are CPR certified.
What if surf conditions are not safe?
Our priority is the safety of our participants. If the conditions are not safe at surf camp, we supplement with beach activities. If you are scheduled for a surf lesson, we will reschedule or cancel and refund.
How early can we drop off our participants?
No earlier than 8:45 a.m. We are still setting up and cannot supervise the participants.
What are surf camp hours?
9am – 3pm for regular surf camps (pick-up 2:30PM-3PM)
What if I'm late to drop off?
In an effort to keep the camp running efficiently, we do not allow arrivals after 9:30am unless you have made previous arrangements with Christian Brock or camp director.
How early can I pick up?
If the participant has somewhere they need to be, please tell the instructors at check-in when you will be picking your participant up. Otherwise we ask that you do not pick up before 2:30 pm, as we like them to participate in the camp chant & clean up.
What if I'm late to pick up?
We allow a grace period of 15 minutes, after that we charge a waiting service fee.
Are there makeup days if I miss a day?
No make-up days for our surf camp programs. Ventura Makos must be notified 48 hrs prior to the start date of camp to receive full refund.
Can I stay and watch?
Yes, but please keep you distance outside of our camp boundaries without interfering with the routine or instruction of the camp. We are all about sharing the stoke here at Ventura Makos.
What if we need to cancel?
There are NO refunds on cancellations. You may reschedule no less than one week prior to original scheduled date(s). No makeup sessions for missed days
Can we do drop-ins?
We do not.
What do we bring to camp?
Participant should bring their own sunscreen, towel, water, snacks, lunch, other needed forms of sun protection like hats and sunglasses, and a warm change of clothes. Participants should be able to independently apply their own sunscreen and open/eat their own food so please make everything user friendly throughout the day.

---