---
Voted #1 Surf School & Lessons in Ventura County by the VC Reporter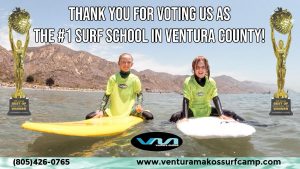 Click the link here VC Reporter 2021 Best Of Issue to view pg. 49 (Voted Ventura County's #1 Surf School) in the VC Reporter's 2021 Best Of Issue
---
2022 SURF PROGRAM SESSIONS

View Upcoming 2022 Season Sessions:
Ventura Boys & Girls (Elementary) Surf Club
Ventura Middle School Surf League 2021-2022
Ventura Scholastic (High School) Surf Team  2021-2022
---
Updated COVID Policies & Procedures
Ages 8 -17, more information on Mini Makos programs coming soon!!!
Private and small group lessons available to ALL ages
Must bring your own mask, hand sanitizer, disinfectant wipes, sunscreen, towel, snack, water, etc.
Each surfer will need to pass a daily health pre-screening to attend weekly class
Daily temperature checks
Groups of 4-5 with 1 instructor, same groups all week
All students will take their wetsuits given to them home daily and bring back the following day to turn in on Friday
All participants and instructors will sign Covid-19 specific waiver to participate
*An inherent risk of exposure to COVID-19 exists in any public place where people are present. COVID-19 is an extremely contagious disease that can lead to severe illness and death. By attending Ventura Makos Surf Camp, Inc. surf camps, including Silverstrand Surf School, you voluntarily assume all risks related to exposure to COVID-19
---
About Ventura Makos
Ventura Makos is the number one surf school in Ventura County providing surf lessons, surf camps and year round surf programs for ALL AGES!!! Our mission is to provide the best possible surf experience or your money back guarantee. Our staff is filled with lifeguards, EMT's, professional surfers and some of the top experienced water-men/water-women in California. All of our employees here at Ventura Makos are required to be First Aid & CPR certified. Safety is always our number one priority by taking the proper steps and precautions in providing a safe atmosphere for the comfort of our staff, participants and local community.
---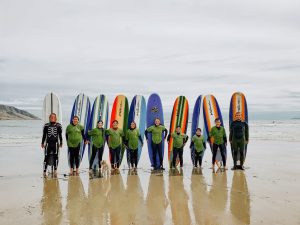 Our Services:
SURF LESSONS FOR ALL AGES
SURF CAMPS FOR AGES 8-17
MINI MAKOS (AGES 8 & UNDER)
LARGE GROUP SURF LESSONS
SURF THERAPY SESSIONS
PRIVATE & CORPORATE EVENTS
BIRTHDAY PARTIES
SURF & SKATE SAFARIS
SURF "N" YOGA CLASSES
OCEAN SAFETY & KNOWLEDGE COURSES
INTERMEDIATE – ADVANCED SURF TRAININGS
School Year Programs:
HOMESCHOOL SURF CLASSES
AFTER SCHOOL SURF PROGRAMS
ELEMENTARY BOYS & GIRLS SURF CLUB
VENTURA MIDDLE SCHOOL SURF LEAGUE
VENTURA SCHOLASTIC (HIGH SCHOOL) SURF TEAM
SURF SAFARIS
PRIVATE SURF EVENTS & CONTESTS
SURF RETREATS
---
Videos
Ventura Makos Surf Camp 2021 on Youtube
Click the link below to view the most recent Ventura Makos Surf Camp movie on Youtube!!!
TAX ID# 81-1858923